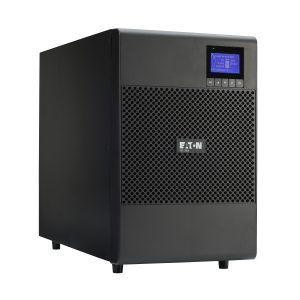 Eaton 9SX UPS
With robust online double-conversion power protection, zero transfer time to battery, continuous filtering of power, and an internal, automatic static bypass, the Eaton 9SX tower UPS consistently delivers reliable performance. The 9SX UPS provides up to 28 percent more wattage compared to traditional UPSs, allowing you to connect more devices and leave room for expanding IT systems. Compatible, line-and-match battery packs allow you to tailor the runtime of the 9SX UPS to meet your requirements. The 9SX easy-to-read LCD display gives you access to UPS alarm history, energy logs, unit serial numbers and firmware versions to enable first-time issue resolution right at the source. Eight, user-selectable languages ensure success for global deployments.
Typical applications: Medical/healthcare, light industrial, K-12, universities, automation, manufacturing
Graphical LCD
The new graphical LCD provides clear information on the UPS's status and measurements on a single screen (in seven languages). LCD display position can be adjusted to offer the best viewable angle for tower and rack usage.
Virtualisation-ready
With an optional network card and Eaton's Intelligent Power® Software Suite compatible with all major OS 9SX seamlessly integrates with leading virtualisation environments and cloud orchestrations tools.
Extended runtime
Eaton 9SX UPS allows you to increase the runtime by adding external hot-swappable battery modules, able to run systems for hours if necessary. The additional battery modules are automatically recognised by the UPS.